what would you do with that extra energy?

We've all heard that voice inside your head that says you can't do it, but you know it's lying.
You just need to push beyond your comfort zone.
Because progress is never inside the comfort zone.
What if you finish that set?
What if you go a little farther?
What if your next level was just past this last push?
You'll emerge a champion.
You can take it head on, or crawl into bed, what are you going to do?
THE BUILDING BLOCK
YOUR BODY NEEDS TO
Recover faster and workout longer when you boost the Nitric Oxide activating potential inside your body. Nitric Oxide supports blood flow in the body, which promotes endurance and stamina for your next workout.
THE SCIENCE BEHIND NITRIC OXIDE
The human body's cardiovascular system relies on Nitric Oxide. A Nobel Prize winning discovery revealed Nitric Oxide as a critical signaling molecule for cardiovascular health and can help tremendously in enhancing blood flow, energy, and stamina.
Maintaining effective levels of Nitric Oxide in your body's system is important for those who want to achieve their personal best at any age.The same Nitric Oxide supported through a real superfood…Beets.
Boosting Nitric Oxide can be like shifting your body into HIGH GEAR.
Unfortunately, over the age of 40, the body produces less Nitric Oxide. But you can fight back…
Beets are a great source of dietary nitrates, the body converts dietary nitrates into Nitric Oxide, helping to support increased blood flow. Especially when you need it the most, during high intensity workouts like CrossFit, Cycling, Running, and other intense exercise.
In the 2012 Olympics, UK athletes made headlines not only because of their incredible performance, but because of what they did to prepare for the competition. Athletes were guzzling beetroot juice because of its ability to widen blood vessels which in turn helps increase energy and stamina. That's because beets are naturally high in antioxidants and dietary nitrates. Nitrates are pre-cursors to Nitric Oxide.
Do you want heart-healthy energy to elevate your performance without the need for stimulants and unhealthy alternatives?
Do you want to push harder and go longer via increased endurance and stamina?
Do you want to be confident you are fueling your body with a safe and effective supplement?
Do you want to feel the power of real science of the human body to unlock more performance potential?
JUST ONE SERVING
OF BEETELITE® PROVIDES THE NITRIC OXIDE EQUIVALENT TO CONSUMING 80 TEASPOONS OF FRESH BEETS!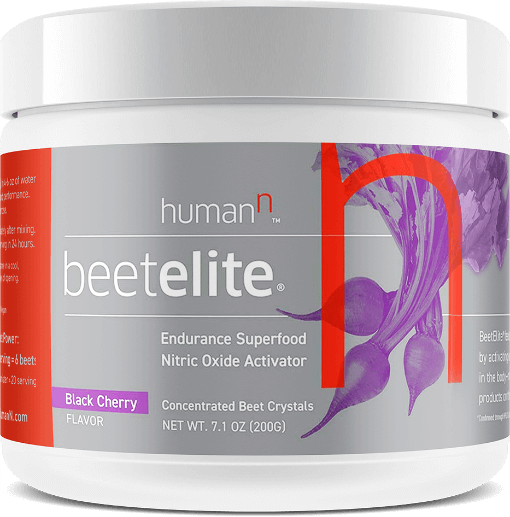 BeetElite® pre-workout powder promotes:
Extended exercise endurance
Improved energy and stamina without the use of stimulants

Nitric Oxide production through both fermented and non-fermented, 100% US farmed, Non-GMO beetroot crystals

BeetElite® is:
An excellent source of Vitamin C
Vegan, Gluten-Free, and uses No artificial ingredients or sweeteners
Informed Sport Certified and used by 120 Professional and Collegiate Sports Teams

Plant-based and fast acting in just 20-30 minutes prior to exercise

Offered in delicious Black Cherry Flavor so you get all the benefits even if

you don't like the taste of beets
Technology is best when it brings people together